News
April 'Half-Price Weekends' in the Metropolitan area
Yes, it's that time of the year again. Whether you fancy picking up a bargain hotel stay, checking out a new restaurant or indulging in some soothing spa treatments, there is a whole host of half-price options on offer involving hundreds of venues coming up this month. What is more, the ever-popular event is again being spread over three weekends and will cover 14 towns across the Metropolitan area!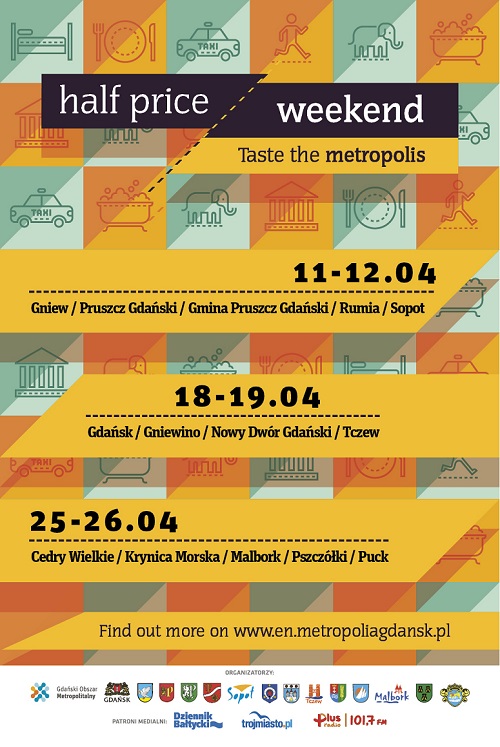 The first of these three weekends (11-12th April) will incorporate Gniew, Pruszcz Gdański (town and municipality), Rumia and Sopot, with the following one (18-19th April) covering Gdańsk, Gniewino, Tczew and Nowy Dwór Gdański, and the final one (25-26th April) taking place in Malbork, Pszczółki, Puck, Krynica Morska and Cedry Wielkie.
For the Gdańsk weekend, as is the case every year, many additional activities have been planned and one of the larger ones this year will be the Wielkie Show Kulinarne (Grand Culinary Show). Scheduled for Sunday 19th April at 1pm on Gdańsk's Długi Targ, the show will involve various Metropolitan leaders including among others: Mayor Pawel Adamowicz (Gdańsk), Mayor Hanna Pruchniewska (Puck), Mayor Mark Charzewski (Malbork), Mayor Jacek Michalski (Nowy Dwór), President Mirosław Pobłocki (Tczew), Mayor Hanna Brejwo (Pszczółki), Mayor Maria Taraszkiewicz-Gurzyńska (Gniew) and Mayor Christopher Swat (Krynica Morska).
In terms of coordinating the event, the same principles will apply to all participating venues in all covered locations – each venue will be marked with special posters and detailed information about the venue's individual half-price offers will be placed at the entrance. Furthermore, each participating town is committed to bringing together as wide a variety of venues as possible, so hotels, restaurants, beauty salons, places of cultural interest and sports facilities will all feature.
Detailed information for each individual town may be found in the links below:
Gniew
Pruszcz Gdański
Gmina Pruszcz Gdański
Rumia
Sopot
Gdańsk
Gniewino
Tczew
Nowy Dwór Gdański
Malbork
Pszczółki
Puck
Krynica Morska
Cedry Wielkie