News
Gdansk firm chosen to supply latest Bond film
Medical facility furniture produced by Gdansk outfit Design Medica is to appear in the latest James Bond film, "Spectre", which is scheduled for general cinema release in early November.
The filmmakers of the legendary British agent 007 initially got in touch with the company about prop requirements in August of last year and soon settled on DM's Aquarius and Phoenix cabinets to feature as auxiliary medical furniture! The lucky cabinets will now be seen on the big screen this autumn/winter in the dental clinic of a Bond girl played by Italian actress, Monica Bellucci.
Having only been in business for a year and just beginning to enter the European and American markets, the deal evidently came as quite a surprise to DM. According to Dariusz Sawicki, after the first email from the film's producers, he was in shock for the next three days that his young Polish company could be in with a chance of such an order.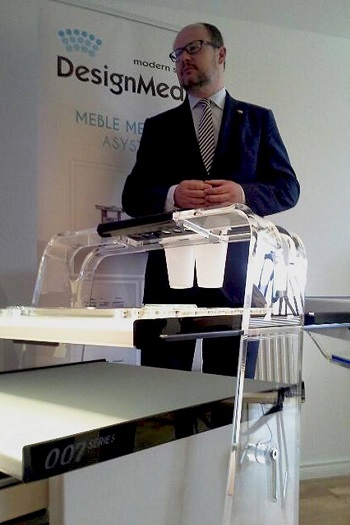 So how did it come about? With manufacturers and retailers always looking for attractive modern designs, the innovative pieces produced by DM (which differ significantly from standard cabinet designs) have caught the eye of a lot of people and can now be found in various dental, gynecological and surgical facilities. And that apparently grabbed the attention of Hollywood!
Unsurprisingly, the company has decided to use the major marketing coup by preparing a special 007 Series for medical supply companies and the owners hope that this promotion will boost sales even further.
In a strange twist the film the Gdansk company has received a boost from is named after the organisation created by Gdynia's most sinister (fictional!) son. Ernst Blofeld is one of the most famous Bond villians and, although a fictional character, the author Ian Fleming gave him a biography as he did with all his major characters. It was Blofeld who created the evil SPECTRE organisation after World War II and what many do not realise is that Fleming has hm born in Gdynia on May 28, 1908, the author's own birthday. You can read more about Gdynia's most famous baddie here.
This piece was partly based on an article which appeared on the Trojmiasto website.