News
Gdansk picks up prestigious start-up award
The Polish Agency for Enterprise Development (PARP) has recognised Gdansk's support of new business by presenting the city with its "Most Friendly Start-up City" award at one of the biggest technology conferences in Poland, the ICT Summit. Both Poznan and Warsaw also received the award, demonstrating an ever-improving support structure for young entrepreneurs and innovative business ventures across the country. The award was accepted on behalf of the city by Vice-President Andrzej Bojanowski.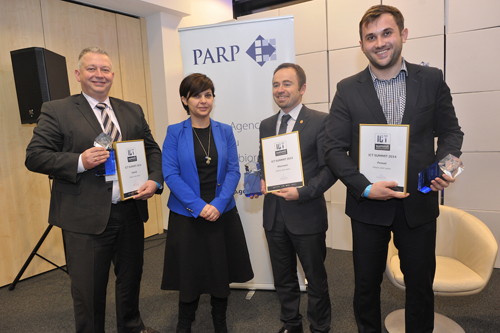 For the Pomeranian capital, movement towards a better new-business environment started with the creation of the Gdansk Foundation for Entrepreneurship in 2005, which led in turn to the opening in 2011 of the PLN 35.8mln STARTER Business Incubator facility at Arkonska Business Park in Przymorze. Immediately filling up with new projects, STARTER has since become a major networking and development hub for start-ups on a national scale and continues to go from strength to strength. All projects benefit from a highly-praised mentoring system which keeps up to date with the latest trends in incubation and business acceleration, helps individuals to attain new skills/knowledge and provides invaluable legal/administrative assistance.
In addition to this, the City of Gdansk and InvestGDA (Gdansk Economic Development Agency), have undertaken a number of measures to create favourable conditions for the development of start-ups. These include becoming active members of the integration-oriented Pomeranian ICT cluster - the most active ICT cluster in Poland - and encouraging independent business support institutions such as Gdansk Science & Technology Park and AIP Business Link. As a result, new businesses are able to rent office space at preferential rates and there are more and more development/networking seminars on offer.
As for the ICT Summit conference, which is organised by PARP and held in Warsaw every year, it aims to present the potential of indigenous ICT industry to investors from around the world, paying particular attention to the role of modern Polish technology. Success stories abound and the impressive achievements of young Polish companies such as Zortrax, Audioteka and Estimote have cemented the country's reputation for being a hotbed of innovative business in Central and Eastern Europe.
During this year's summit, which went with the apparently fitting heading of "The World looks at Poland", more than 800 guests turned up to hear 50 international speakers discuss the development of start-up ecosystems and various innovative projects in this part of Europe, as well as wider trends in technology. Young entrepreneurs were also able to attend workshops looking at the creation and development of projects, different forms of financing and cooperation with investors, as well as participate in the ScaleMeGlobal contest. This open competition gave the top 10 start-ups from Poland the chance to present their projects to an international jury consisting of well-known investors and business mentors, the winners receiving a coaching session from start-up veteran Don Dodge or Paul Jozefiak.
"The most important element of the ICT Summit conference is to promote Polish start-ups in the international arena and stimulate dialogue between representatives of different parts of the start-up ecosystem. It is an opportunity to meet with investors from Poland, Europe and the US, business angels and venture capitalists. The conference also encourages the exchange of experiences between entrepreneurs from Poland and other Central and Eastern European countries." said PARP's Ewa Szulc.
This piece was based on a press release by the press office of the President of Gdansk.