News
Kashubian Highway plans on track
Work on the planning stage for the new by dubbed the 'Kashubian Highway' is nearly finished and plans and visualisations have been released showing how the 64km expressway will look, when it opens, hopefully in 2020.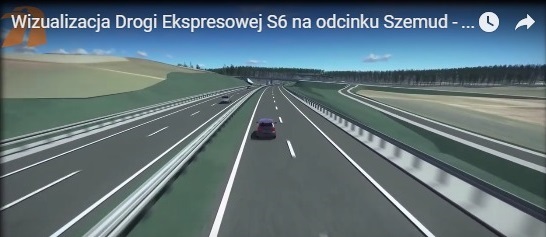 The spatial concept is an important document which shows the path and the technical parametres of the new road and was prepared by the Gdansk-based company, Transprojekt. The planned road has been split into four sections for this purpose.
Gdynia – Szemud
This section runs for 22km and there will be a connection between the Obwodnica (Ring Road) and the Kashubian Highway at Chwaszczyno. The most challenging part of this section is the part which will connect the residents of Dąbrowa, Rdestowa, Polifarbie and Szemud.
Szemud – Luzino
A 10km section which is by the easiest of the four to build. A service station will be built near the village of Sychowo and there will be two 100m+ bridges built over streams in the Szemud area.
Luzino – Łęczyce
This section will run for 15km and include junctions at Strzebielino and Luzino while a connection to the main highway will be built at the end of this section, at Bożepole. This section will also include a full services including a petrol station and food stop.
Łęczyce – Lębork
This 17km section will help connect Słupsk with the Tri-City bypassing Lębork. There will be three junctions on this section at Łęczyce, Lębork East and Lębork South. The most interesting piece on this part will be a mile-long viaduct.
If everything goes to plan the road should be open to the public from 2020. With this planning stage coming to a close, documentation has been created which will allow a tender process to begin. It is expected that the successful companies will be announced at the end of next year with work beginning in the spring of 2018.
This piece was based upon an article by Maciej Naskręt on the Trojmiasto website