News
Live and work in the Tri-City. It's better than London!
Instead of emigrating, check out Gdańsk and Gdynia. That was the message from the high profile participants of a debate entitled "Strong Polish Regions: Time for local patriotism in Gdańsk", held at the PGE Arena at the end of last year, who argued that it's better for Poles to live and work in the Tri-City than in London.
The debate, one of a series organised across Poland by the popular national business journal 'Puls Biznesu' ('Business Pulse'), centred on whether it is possible to promote the Pomeranian region through business. The answer from the 6-person panel, which included the Mayor of Gdańsk, Paweł Adamowicz, as well as the presidents of Lotos S.A. and Trefl S.A., was a resounding one: Yes, and that's what we need to do!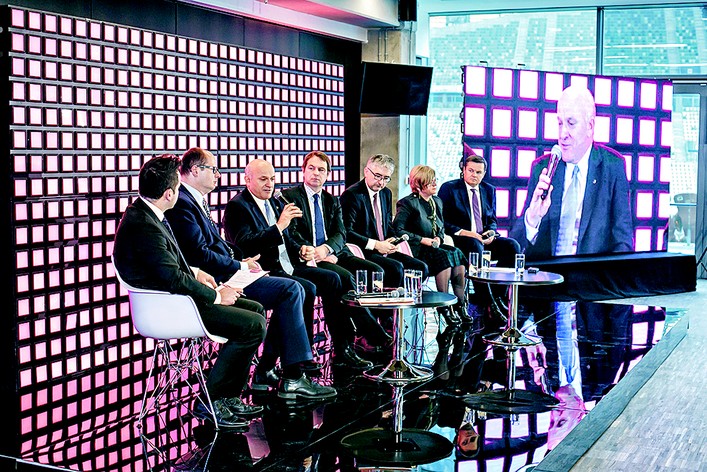 "The Tri-City is one of the best, if not the best, place to live. It's necessary to convince people in the surrounding areas of that. It needs a little marketing, though, and this is a challenge for all of us," began Trefl boss, Roman Kniter.
However, as has been well documented, migration trends in Poland over the past decade point to the West as having a greater gravitational pull over Poles than other parts of their own country. Maciej Grabski, president of the Olivia Business Centre, explained:
"We are waiting for the people who are here (in the Tri-City) to make money and grow into Polish patriots. Unfortunately, people in Łomża or Lublin who are looking for a job think about emigration rather than moving to us."
According to Paweł Adamowicz, though, continued investment in the area could change that in the future:
"People will move to us if they're able to find jobs, and jobs will be created through investments. There are already, but we would like to see more of them."
Speaking about the qualities of Pomerania, the panel members then put forward and dissected various ideas on how to make the Tri-City more attractive and take advantage of the opportunities of the future.
Encourage local pride?
Both Paweł Adamowicz and Roman Kniter felt that creating a sense of pride in local business was of paramount importance, the latter saying:
"We (Trefl) were an innovative start-up in Gdańsk, which quickly became a global brand, and you would like to see today's entrepreneurs stay here and create 'red and white capital' too. It would be good if they got special support at a local level and became the pride of the region."
Paweł Adamowicz then cited the example of Bremen where the mayor uses local produce whenever possible and drives a Mercedes not just because it's a good car, but because it is produced there:
"This is so ingrained in everyone that it would be a scandal if an entrepreneur were to order a product from outside the region. Identification with the city and a sense of pride are demonstrated daily and, in Poland, we don't have that yet."
An exception he noted in Pomerania, however, was that of small IT companies with a good product but limited possibilities of breaking into a wider market. In such cases, he pointed out, larger companies and local government often procure the software first, demonstrating that the system works and helping to create demand.
More local authority?
Another suggestion discussed was the potentially beneficial impact of greater authority at a local level. Paul Olechnowicz, head of Lotos, had particularly strong feelings on the matter:
"I'm an advocate for more power on the local market for local governments, because authority should be where the host is. There are marshals, presidents, and mayors who – with a feeling for the place - could manage that. Warsaw must learn to delegate powers down. Our company is growing because everything in Gdańsk works well, but there are some areas which are worth talking about in order to make them even better."
Greater interaction with the community?
Paul Olechnowicz also spoke of the lack of a "communal approach to building a future based on local social capital". Projects targeting different environments and social groups are required in his opinion, and he cited the rejection (many years ago) of support for a Lotos initiative aimed at developing ski jumping among children. In recent years, however, they have been more successful with a similar drive in football:
"On the basis of these experiences, we have launched a white and green future (this in reference to the colours of Lechia Gdańsk) with Lotus. Three thousand children can now practice in 400 places in Pomerania and, in 2-3 years, some will develop into good juniors who will go on to make it into the Lechia first team."
"This isn't really our goal though. If the commercial team plays well, to represent Gdańsk and Poland, business around the stadium will grow and work in a completely different way. You have to create programs that require mass participation."
More science in business?
Cooperation between businesses and universities was another area to be flagged up by several of the panellists. It was suggested that scientists lack entrepreneurial spirit, partly as a result of EU subsidies which remove the necessity for universities to seek other forms of external funding. Paweł Adamowicz described the difference of approach in the USA:
"When I was with a delegation in California, the rector of the state university didn't use the word "business". He did, however, talk about income, money and finance. He had a subsidy at the level of 40% of his budget and, to convince his local Olechnowicz or Grabski to invest in new projects, he had to find the rest himself."
Teresa Kubas-Hul, vice president of the Polish Agency for Enterprise Development (PARP), also felt that Polish academia could do more. Pointing out that Poland has modern teaching facilities and laboratories which are better-equipped than in many western countries, she instead attributed the problem to the practical application of the knowledge of students and researchers:
"We want the whole country to integrate science and business. Then entrepreneurs will be able to tell us what they need, and the world of science will answer these needs. We are talking about an insufficient relationship between science and business. Furthermore, if you prepare a good (regional) development program, then you will know what kind of people and what skills you will need in 10 years."
More confidence?
Adam Świrski, vice president of BGK (Banku Gospodarstwa Krajowego), drew attention to yet another problem, that of operating in a global market in which competition frequently siphon off good ideas and outbid Polish companies for employees. In spite of that, he argued, optimism in local business is crucial:
"As entrepreneurs, we are aware of these risks. It does seem, however, that Poland is on a good growth path – we have ideas, money, well-educated people and the Pomeranian region has excellent conditions for further development of infrastructure."
"We're lacking a little belief in ourselves. If one entrepreneur fails, it is not a basis to assume that nothing can succeed. We should learn from the Americans, who proceed from the assumption that the first business usually fails."
By the end of a stimulating and productive discussion, more than a little of this belief had been demonstrated by the 6 panellists - people who, according to Eugeniusz Twaróg (covering the debate for Puls Biznesu), "...are proud of the place in which they live, work and do business, and who still think about how to make it more attractive, to attract investors and pull in workers from other parts of Poland."


"Time for local patriotism"
The debate described above is one of a series of debates organised by the Polish business paper 'Puls Biznesu'. The debates feature local entrepreneurs, representatives of local government and business support institutions nationwide and their goal is to attempt to answer the question whether there is room for local patriotism in a globalizing world, as well as the challenges facing the region and how to improve cooperation between business and government.
This piece was based upon a report of the debate by Eugeniusz Twaróg which was published in Puls Biznesu in December. You can find the full article in Polish here.