News
London Eye style Ferris Wheel to be star of 2014 Jarmark
The biggest cultural event in the Gdansk calendar is the three-week long St Dominic's Fair or Jarmark Dominika. This year's event begins on Saturday July 26.
The history of the fair can be traced back to 1260 when it was established by Pope Alexander IV. In those days traders and worshippers were attracted to the city where not only could they trade their wares but could also receive absolution for their sins by attending a pardon mass (and making a donation). This act reputedly could cut your stay in Purgatory by 100 days.
The fair flourished through the centuries although World War II saw it disappear from the calendar for 33 years. Now running for three weeks the fair attracts over 6 million visitors annually from Poland and abroad and features concerts, street theatre and lots of stalls selling all kinds of wares. It's a great place to pick up souvenirs and you'll also find lots of food and drink with a particular focus on local products.
The highlight of this year's event is a 55 metre high Ferris wheel on Granary Island which will give visitors wonderful views of the old town from one of its 42, air-conditioned cabins. The Ferris wheel will be similar to those found in London and Paris and is expected to be the fair's most popular attraction.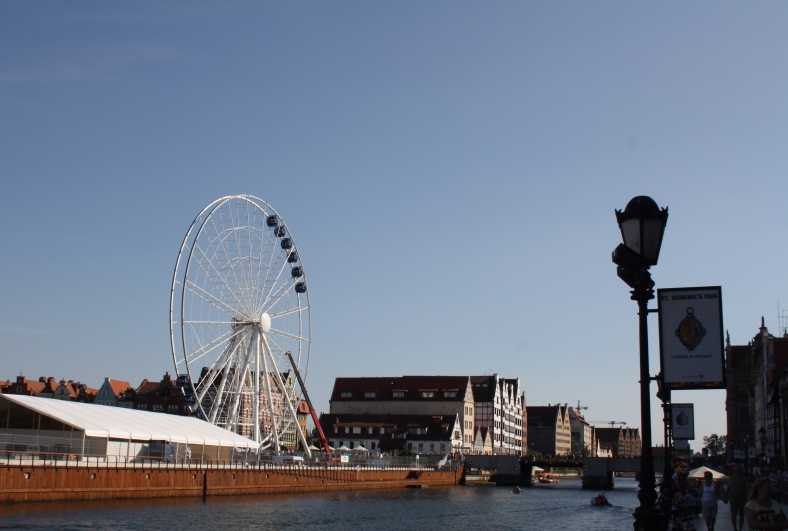 "I am convinced that the Granary Island waterfront with all its attractions, including the Gdansk panoramic wheel, will attract hundreds or even thousands of visitors and not just residents" said Andrzej Bojanowski, the deputy mayor of Gdansk responsible for economic policy. "I think that this type of attraction will show that we have nothing to be ashamed of and that in fact we live in a really beautiful metropolis, such is Gdańsk".
You'll find a detailed programme of events at the stands of the event organisers (you'll find one next to Neptun's statue) or you can download a map from the organisers' website (in Polish but understandable).