News
Metropolis residents to to be given chance to choose their investments
At the start of April a brand new idea was presented at a press conference in Sopot, which would see the various municipalities and local governments of the Gdansk-Gdynia-Sopot Metropolitan Area (OMG-G-S) integrate their activities in regards to the Civic Budget.
The Civic Budget Initiative, an idea originally spotted in Porto Alegre in Brazil, was first implemented in Sopot in 2011 when the local government there became the first in Poland to offer its residents the opportunity to choose how to spend money on local investment. The city of Sopot narrowed down a list of possible investments to a short-list and then asked the residents to vote for the project that they thought to be most suitable. The idea proved very popular and quickly caught on with other municipalities borrowing the idea and offering their residents a similar choice. You can see here where residents chose to spend the Civic Budget in Sopot by clicking on the red icons on this map.
This year, Sopot suggested that the governments of the OMG-G-S come together to do the same as a much larger group. The plan, which was conceived by the Vice President of Sopot, Marcin Skwierawski, called on local municipalities to synchronise the application deadlines and voting periods for their various projects so that the residents of the entire OMG-G-S could take part on a vote that would result in investment in their area. It is hoped that this project will go some way to promoting the work of the OMG-G-S and increase both the visibility and popularity of the association.
Eventually 12 of the local governments agreed to work together on the first edition of this project and at the start of April announced plans for suggestions for the Civic Budget. The twelve are Gdańsk, Gdynia, Krynica Morska, Lębork, Malbork, Pruszcz Gdański, Puck, Rumia, Sopot, Szemud, Tczew, and Władysławowo.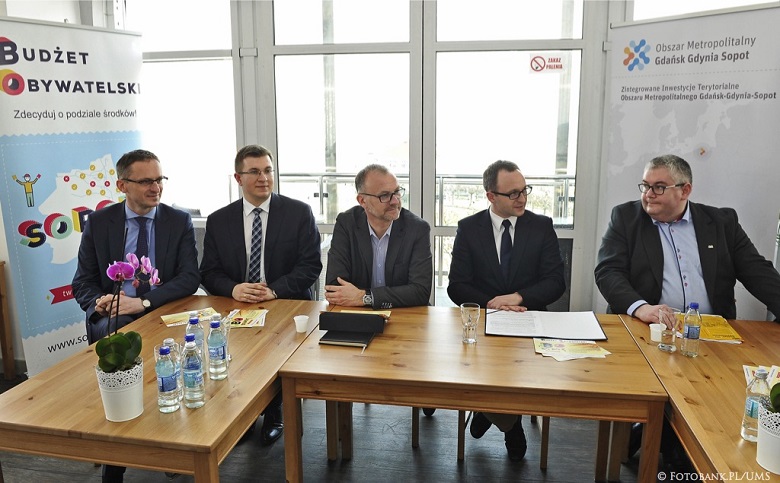 (from left to right): Janusz Wrobel (Mayor of Pruszcz Gdansk); Marcin Kurkowski (Deputy Mayor of Rumia); Michael Guć (Vice President of Gdynia), Marcin Skwierawski (Vice President of Sopot); Piotr Kowalczuk (Vice President of Gdańsk)
The local governments will set the rules for their own versions of the project, but it is hoped that the exchange of experiences and the act of working together in this way within the OMG-G-S in the cause of social development will both benefit all involved and inspire others to come together in a similar manner in the near future.