News
Pomerania continues work towards a metropolitan union
At the end of June local governments from the Gdansk-Gdynia-Sopot Metropolitan Association (OMG-G-S) met in Szymbark to unanimously decide to pursue a Metropolitan Union together based around the Tri-city area. The local governments of Gdansk and Puck were then the first to adopt the necessary resolutions to create such a union and they were followed in August by Rumia adopting a similar resolution.
The meeting in Szymbark was followed in mid-July by Sopot mayor and vice-president of the OMG-G-S association, Jacek Karnowski, travelling to Warsaw to hand the Undersecretary of State in the Ministry of the Interior, Sebastian Chwałek the association's application. The application was addressed to Prime Minister Beata Szydło. A week later, on July 19, the association presented the idea to the Governor (Polish Marshall) of the Pomerania Region Dariusz Drelich and the association received an initial declaration of willingness to discuss the idea.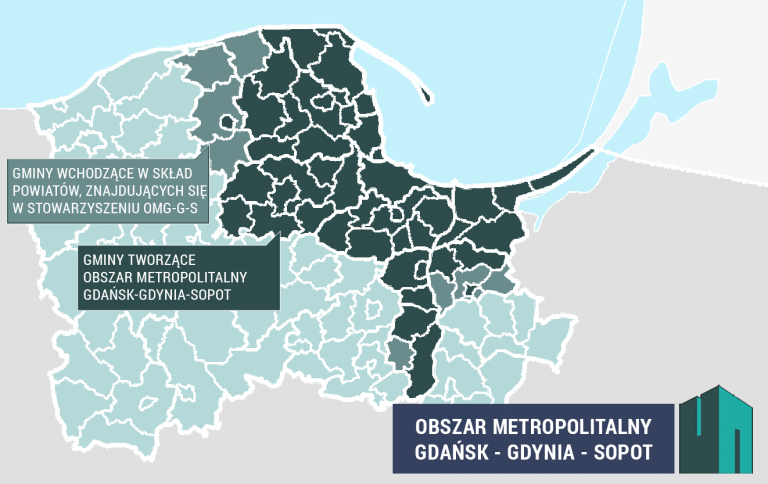 The area that could be covered by the new metropolis
The integration of the metropolitan area would take place under a new law, similar to that prepared for the Silesia metropolitan area. This was created by the current government to replace an earlier law which had been adopted by the previous Civic Platform (PO) led government. The local authorities in the Pomeranian area are hope to benefit from similar regulations but there is a potential problem in the opposition to this move by the government. In April of this year the Interior Minister, Mariusz Błaszczak, stated at a press conference to present the details of the Metropolitan Act created for the Silesian agglomeration, that this new law should only apply to Silesia. Mr. Błaszczak stated that presently in Poland only Silesia and Warsaw were large enough to be considered for Metropolitan area status.
The planned metropolitan union in the Tri-city region would create the largest population in the north of Poland with almost 1.5 million inhabitants. Supporters of the idea hope that converting the integration of local governments from an association to a union, that they could improve the quality of delivery of service in a number of areas including public transport and spatial planning. It is hoped that more local control could be exercised by the local railway system over its own operations by separating SKM from the national PKP company. Associated with that is the creation of a single ticketing system in the Metropolitan Area. Local governments are planning a joint promotion and creation of a development strategy in order to allow additional resources, estimated at about 170 million zloty per year based on taxes and contributions, to be kept in the region rather than being paid to the central fund as is the situation now. This development plan is expected to be adopted this month.
This piece was based on an article which appeared on the Urbnews website