News
World Gdansk Reunion photo now available online
Approximately 10,000 people were immortalised in a photograph taken on Sunday to mark the 4th World Gdansk Reunion. The last time such photographs were taken was four and fourteen years ago. Photographer Dariusz Kula was the person in charge of capturing everyone on camera this time around.
Traditionally, the photograph has been taken around the Neptune fountain but this time a different perspective was used from four years ago. Then the photographer was positioned in the Green Gate, but this year, Dariusz Kula set up his camera in a small room on the top floor of Dom Schumannów (ul. Dluga 45).
The picture put everything together: the crowds of people who came together to take part, the weather and the mood.
"It's not just a nice souvenir for the people of Gdańsk, but also for the beautiful tradition of our city" said Paweł Adamowicz, president of Gdansk. "It's a tradition, which is defined by the World Gdansk Reunion".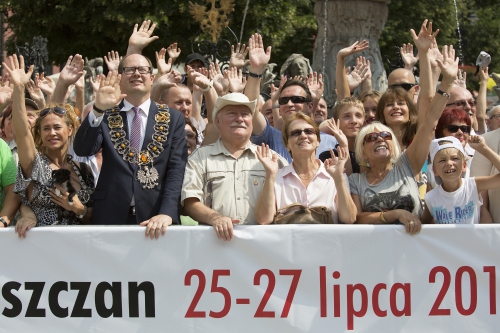 In the front row of the stood next to the President of Gdansk were former Polish president Lech Walesa and his wife Danuta. Asked by Radio Gdańsk, if he felt like the most important Gdańsker, Mr. Walesa replied "I am one of the many inhabitants of Gdansk and I feel proud of this".
By using the highest quality, modern large format digital technology and lenses everyone will be able to find themselves in the picture. You'll find the commemorate photograph on the pages of gdansk.pl
Adapted from a text on gdansk.pl by:
Magdalena Kuczyńska
Gdansk City Hall
Chancellery of the President/Press Office
magdalena.kuczynska@gdansk.gda.pl