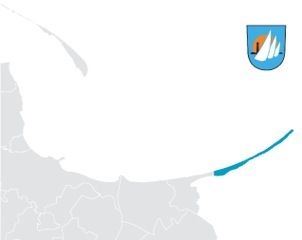 Residents/Population:
1 353
Area:
11 601 km2
Expenditure per capita:
15 288 zł
Website:
http://www.krynicamorska.tv/
Rulers/Leaders:
Adam OstrowskiBurmistrz
Teresa PawłowskaLeader of the City Council
In terms of population Krynica Morska is one of the smallest towns in Poland. Situated in the north of Poland on a small stretch of land, the Vistula Spit, surrounded on the north by the Baltic Sea and from the south by the Vistula Lagoon which is covered by evergreen, pine/beech forest which for decades have attracted thousands of tourists.
Every year thousands of tourists visit the town attracted by among other factors, the climate, the cleanliness, the iodine rich air, the long sandy beaches which feel pleasant on the feet, the high, white dunes, it's suitability for excellent sailing, the waters which are rich in fish, the water of the Vistula Lagoon and the beautiful, thick forests with their wealth of various species of plants and animals .
Every visitor will find their own favourite form of relaxation: the beaches complete with everything a tourist might need such as equipment rental for fun on the water; changing rooms and bars by the water and alternatively places that are wild and uninhabited. Of increasing popularity is the beach near Piaskow which is a favourite of nude sunbathers.
Another attraction here are the dunes. From the highest 'The Camel's Hump (48.5 m) you have a beautiful view - on one side the Baltic and the other the Vistula Lagoon across which you can see the Elblag hills and Frombork Cathedral. Unforgettable moments can be experienced wandering among the 150-year-old trees in the Beech Reserve, where you can meet fallow deer, foxes, wild boar, raccoon dogs and countless birds. In Krynica Maritime you should also visit the old buildings of the town dating from the early twentieth century that forms a historic villas and pensions, and the lighthouse which is one of the few on the coast which is open to the public.