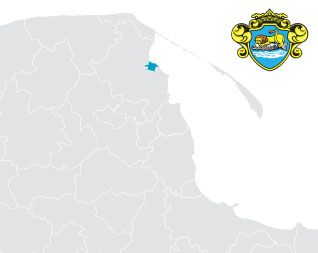 Residents/Population:
11 562
Area:
479 km2
Expenditure per capita:
3 378 zł
Website:
www.miasto.puck.pl
Rulers/Leaders:
Marek RintzBurmistrz
Hanna PróchniewskaLeader of the City Council
Puck is one of the most visited towns on the Bay of Gdansk. This Kashubian village combines the advantages of a seaside resort and town with a distinct identity and rich history. Puck is the oldest Slavic port on the Baltic, the historical base of the royal fleet and the place of Poland's marriage to the sea.
The city's history dates back to the Middle Ages, when it served as the largest Slavic Baltic port, which itself dates back to the VII century. Since the 1970s, a large, 12 -hectare archaeological site has operated on the edge of Puck exploring underwater is search of relics of past times. So far the wrecks of five medieval ships and boats have been discovered. Another note of historical interest is that the East Pomeranian princes were based in the town which later passed to the possession of the Teutonic Knights. When Puck was finally incorporated into the Prussian Kingdom (it became part of the kingdom in 1569),all the most important offices in the region were brought together here (including the courts , the county authorities and the council of the nobility).
During the reign of the House of Vasa, Puck became a fortress and base of the Polish fleet. The 'Kaprzy Królewscy (Royal Navy) were stationed here and were the terror of sailors on the Baltic and the North Sea. It was in effect the first Polish 'navy'.
These days Puck is usually associated with being the place of the symbolic marriage of Poland with the sea, a ceremony performed in 1920 by General Józef Haller. In accordance with the provisions of the Treaty of Versailles, Poland peacefully recovered Pomerania and the Pomeranian Front, commanded by General Haller, was created. As part of the ceremony to reclaim this land for Poland, a platinum ring was thrown into the sea marking a symbolic act of marriage between Poland and the sea. On February 10 each year ceremonies are held in Puck to commemorate the event and you can see a bust of General Haller in the fishing port.