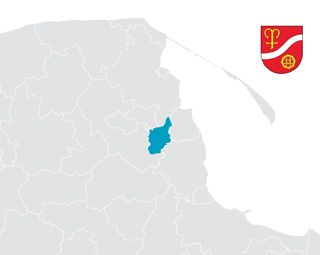 Residents/Population:
46 940
Area:
3 010 km2
Expenditure per capita:
2 445 zł
Website:
http://um.rumia.pl/
Rulers/Leaders:
Elżbieta Rogala-KończakBurmistrz Miasta
Michał PasiecznyLeader of the City Council
Rumia is located on the Zagorska Stream (Zagórska Struga) a characteristic topographical feature dividing different forms of landscape. From the north it divides the Reda canal and so called Mud Bridge (Mostowe Błota) wetlands and to the east to the sea it shields the Oksywska holm (Kępa Oksywska) enclosed from the south by the Chylonski Lowlands. With the towns of Wejherowo and Reda, Rumia forms what is known locally as the Little Kashubian Tri-city.
Rumia belongs to the group of younger, medium-sized cities in Pomerania. In 1993 the population exceeded 39,000, nearly three and a half times what it had been in 1954 (the year it obtained civic rights). The land covered by the city grew in size to cover the nearby villages of Janowo, Zagórze, Biała Rzeka i Szmelta.
Among the 21 cities in the Pomeranian province, Rumia ranks 7th in terms of population and 4th in terms of surface area, after Gansk, Gdynia and Władysławowo. 39,285 people live in an area of 30 km², meaning there are 1,309 people per km². By 1987 Rumia covered 37.5 km² including 743 hectares given by Gdynia.
An ideal location on a major tourist route leading from the interior of the country to Hel, combined with good communication infrastructure means Rumia is an ideal base in the northern Kashubian region and Northern Tri-city. The Kashubian region, of which Rumia is part, captivates with its raw beauty. This is a region of different and varied landscapes. You can find clusters of small forest ponds and large lakes like Lakes Żarnowieckie. Forests and meadows merge over rolling moraine terrain which reaches heights of 200m. Hidden among the Kashubian villages are treasures which reveal the charm of centuries, including old churches, history cottages with covered arcades at the front and secluded manor houses and even palaces. The pride of the county's largest city,on the border between Rumia and Wejherowo, is the Baroque Calvary and historic churches with catacombs. But the biggest attraction is the coast of northern Kashubia – with rugged cliffs in the north and wide, beautiful beaches which surround the Bay of Puck and the Hel Peninsula. The coast has an excellent tourist infrastructure so you can enjoy healthy relaxation here even on cloudy days.