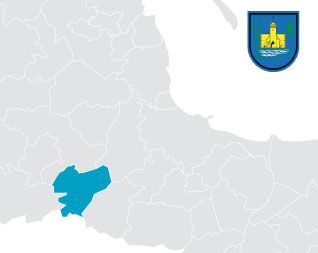 Residents/Population:
9 877
Area:
11 211 km2
Expenditure per capita:
2 994 zł
Website:
www.somonino.pl
Rulers/Leaders:
Marian KryszewskiWójt
Andrzej ReglińskiPrzewodniczący Rady Gminy
Lying within the Kashubian Landscape Park at the foot of the Szymbark heights, the numerous rolling hills, natural wonders, lakes as well as river valleys will stay long in the memory of any visitor to Somonino.
Canoeists flock to follow the route of the Radunia river which is also a beacon for many anglers. Indeed Somonino boasts wonderful conditions for anyone looking to relax and this, alongside Kashubia's famous hospitality, has lead to a significant rise in the numbers of tourists, who can stay in a variety of accommodation: hotels, holiday centres, private houses or farm-based stays. Visitors can enjoy the many cycle paths and Nordic walking trails as well as hire water sports equipment all over the area. The summer horse-drawn carriage rides turn into magical sleigh rides in winter, of course finishing off round a bonfire. The stone circle ''kamienne kręgi" and ghost ''szlaku widmo" cycle trails are highly recommended, offering a quieter alternative to their more crowded counterparts in the city.
Somonino is also famed for its 150-year-old beech forest (Szadego Buka), a symbol for Kashubia, and home to the summer Sobótki festival from 23rd to 24th June. The area is also full of protected heritage sites: the 1st century BC stone circle at Trątkownice as well as the churches at Goręczyno, Hopowo and Połęczyno.