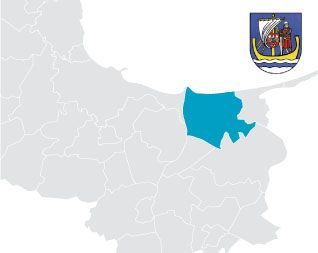 Residents/Population:
9 945
Area:
17 009 km2
Expenditure per capita:
3 808 zł
Website:
www.stegna.pl
Rulers/Leaders:
Jolanta KwiatkowskaWójt
Dorota ChojnaPrzewodnicząca Rady Gminy
With its attractive setting, exceptional microclimate and magnificent landscapes, Stegna and its surroundings has a lot offer for tourists. In the south the network of rivers and canals are ideal for fans of water sports, while in the north the forest lined beaches, where the dunes are rich in amber, are a signature of the area.
One of the largest municipalities in Poland, it borders the city of Gdansk and the Vistula where it meets the Baltic. Indeed it is here the visitors have the rare chance to observe beach formation as sand builds up on the spits of the river. It is along the coastal spits at Stegna, Junoszyno, Jantar and Mikoszewo that tourism is developing most quickly and sailing, canoeing and motorised water sports are all popular not only on the sea, but also on the 50km of waterways that lead deeper inland.
Several interesting tourist trails run through Stegna, including part of the long-distance walking trail, E9. Walkers can also try the yellow 'Jantar' trail along the Polish coast from west to east from Świnoujście, Koszalin, Hel, Gdańsk, Mierzeja Wiślana, Elbląg, Frombork to Braniewo, 52 km of which goes through Stegna. The blue Vistula trail, the 'Nadwiślański' from Sztum down to Mikoszewo is 76 km long.
Stegna also lies partly within the varied Vistula Spit Estuary Park, an important stop off point on the route for a range of migratory birds and a great place for birdwatchers to spot wetland birdlife on either one of two reserves. The first, 'Kąty Rybackie', covers one of Europe's largest populations of nesting Black Cormorants. The second, Mewia Łacha, protects the bird populations of the estuary as well as the diverse plantlife. If that wasn't enough, the Beech Forest Reserve of the Vistula Spits protects a beech woodland in its natural pristine condition.
In terms of architecture in Stegna there are a number of wooden-beamed mid-19th century houses. In addition the beautiful church of the Sacred Heart of Jesus dates back to 1681 and boasts a skeleton construction and colourful ceilings. Every summer sees organ concerts there as part of Gdansk's International Organ Music Festival. Since 1999 Jantar has been the home of the World Amber Fishing Competition and guests can also visit the the Amber Museum at Jantar with its range artefacts and wonderful amber objects. The town is also well-known for its national sailing festival.
The wide sandy beaches and all the other attractions has lead to the rapid development of tourism. This has been aided by the high quality infrastructural connections as well as the proximity of the regional centre Gdansk and Elbląg.