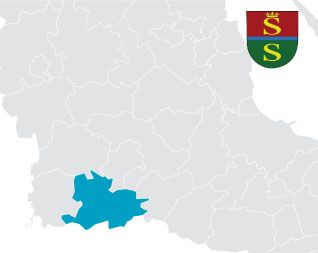 Residents/Population:
9 673
Area:
16 047 km2
Expenditure per capita:
3 722 zł
Website:
www.gminastezyca.pl
Rulers/Leaders:
Tomasz BrzoskowskiWójt
Stefan LiterskiPrzewodniczący Rady Gminy
Located in the Kashubian Landscape Park and characterised by its richly diverse countryside lakes, forests and rivers, the centre of the area makes the Kółka Raduńskie or Radun Ring, where 14 connected lakes can be navigated by canals and rivers.
Rich in archaeological sites from many periods, defended settlements, ancient pathways, dwellings and sacred sites are scattered all over Stężyca. Coupled with this the wonderfully varied landscape and it is no surprise that the so called area of 'Swiss Kashubia' is a magnet for tourists.
Visitors flock to the lakes in summer and from December to April to enjoy winter sports too, on the ski slope at Wieżyca running down the 329m high hill. In summer it's worth climbing the nearby John Paul II viewing tower; the highest point for many kilometres around affords unforgettable views.
Nature lovers can enjoy the botanic gardens at Gołubie as well as the green school at Szymbark, which runs courses for schools all year round. Another well-known attraction, 600,000 visitors last year, is the Szymbark educational centre, a collection of wooden buildings demonstrating a variety of construction methods and technologies. Another highlight is the Dom Sybiraka, or Siberian House, a gift from Poles deported to Siberia during or after World War II, many of whom dream of a return to their homeland.. Also on the site is the 'upside down' house as well as the literally remarkable world's longest plank of wood; it's 37m long and in the Guinness Book of World Records.
With over 60% of Stężyca municipality inside the Kashubian Landscape Park it is no surprise that tourism, especially 'farm-based' tourism are a key element of the local economy. However, agriculture and forestry also make important contributions.