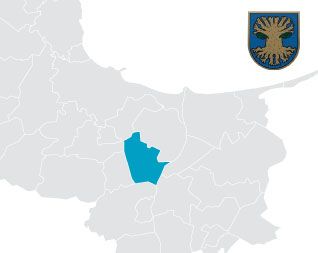 Residents/Population:
4 148
Area:
8 451 km2
Expenditure per capita:
5 063 zł
Website:
www.suchy-dab.pl
Rulers/Leaders:
Barbara KamińskaWójt
Bucka Krystyna ReginaPrzewodniczący Rady Gminy
Lying next to the centre of the Gdansk Metropolitan area in the 'Zuławy', the protected flood plain area where the Vistula meets the Baltic, Suchy Dąb is a beautiful spot, ideal for tourism: on water, on foot or on two wheels, whichever you choose, you'll be sure of rest and relaxation. Two trails for walkers and cyclists cross the region: the 'Domów Podcieniowych' trail as well as the 'Motławski' trail, while there are dedicated tourist waterways too.
The' Domów Podcieniowych' trail takes in some of the architectural pearls of the region. Lined by houses from the 'Pre-Dutch' period with beam frames completed with red brick and white plaster, the best examples of these unique houses can be seen in the villages of Steblewo, Krzywe Koło and Osice.
Meanwhile the 'Motławski' trail gives walkers the chance to explore from the gates of Gdansk along the Motława river, the branch of the Vistula running through Gdansk, down to Tczew, taking in the gothic churches at Suchy Dąb, Krzywe Koło and Koźliny along the way.
Suchy Dąb has excellent transport connections lying close to the S7 expressway, A1 motorway, the Gdansk ring road as well as Lech Wałęsa airport. This ensures that, although predominantly agricultural in nature, it is a lively place, full of culture. Buying property here is simple and Suchy Dąb is becoming increasingly popular with those wanting to get away from the Tri-city to the peace and quiet of this picturesque place.