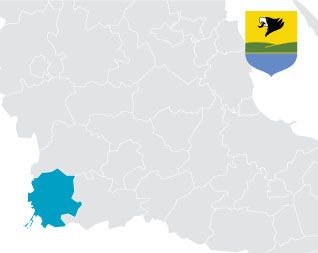 Residents/Population:
5 136
Area:
13 146 km2
Expenditure per capita:
3 725 zł
Website:
www.suleczyno.pl
Rulers/Leaders:
Bernard GruczaWójt
Kazimierz GawinPrzewodniczący Rady Gminy
Sulęczyno Municipality stretches out along the valley of the river Słupia. The surrounding forests boast famous lakes and guarantee a wonderful place to get away from it all, especially if it is peace and quiet you are in search of.
The area also abounds in magical and mysterious sites. Prime among these is the wonderful stone circle Goth cemetery at Odry by the Długa lake. A little way away is Węsiory with is numerous ceremonial stone circles as well as burial mounds. For those passing through Sulęczyno itself, a visit to the 1874 neogothic church is a must, as is a coffee or meal at the splendid palacial lakeside manor house, one time residence of the Heidensteins, lawyers and advisors to King Stefan Batory.
Sulęczyno is renowned for its musical and cultural events . Since 1996 the 'Jazz in the forest' festival has been a highlight with open air concerts by local and foreign artists attracting crowds from home and abroad. In addition there is the Sulęczyńo Accordion Gathering and concerts in the 'Rock in Sulęczyno' cycle of events.
When it comes to plant life the Gawliński protected area is where to find the Sulęczyno Moss nature reserve, home an enormous range of turfs, mosses and wetland plants, 228 species at the last count.
Indeed, the crest of the area also attests to the diversity to be found here. It is made up of a Griffin's head on a shield of yellow, green and blue. Each colour is significant: the yellow of the sun, the green of the forests and hills, the blue of the lakes and the rivers that run through Sulęczyno Municipality.