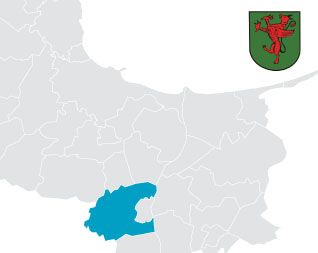 Residents/Population:
13 003
Area:
17 060 km2
Expenditure per capita:
3 110 zł
Website:
www.gmina-tczew.pl
Rulers/Leaders:
Roman RezmerowskiWójt
Krzysztof JonaczykPrzewodniczący Rady Gminy
On the eastern banks of the Vistula, covering the area of the city of Tczew itself, its location on the borders between eastern Pomerania, Starogard, Kashubia and the Vistula flood plain means that the terrain of the Tczew Municipality is remarkably diverse.
It also lies next to three international transport routes. Firstly the A1 motorway links Gdansk to the south. Secondly, road 22 runs from Berlin all the way to Kaliningrad. Finally local, national and international rail connections run north and south. The towns and villages of the area enjoy an extensive bus network: the whole area is extremely well connected.
Worth seeing are the many religious monuments and sites, for example the church of the Holy Trinity at Lubiszewo, Saint Małgorzata's in Miłobądz, and also the church of Our Lady in Turz. There's also a well-preserved manor-palace complex in Łukocin.
In addition the municipality offers a wide range of recreational facilities. There are cycle paths and walking trails with the Vistula path, at 480km, the longest in the country. Running from Cierpice near Torun through Bydgoszcz, Gruczno, Świecie and Nowe to Gniew, from there it goes on to Knybawy along the right hand side of the Vistula through Biała Góra, Kwidzyn, Grudziądz, Chełmno to Zamek Bierzgłowsky near Torun. New paths are also in the planning phase: Tczew-Nowe (green) will be 98 km in length. Walking trails include the 80 km Kociewski trail (yellow) from Tczew through Rokitka, Lubiszewo, all the way to Starogard Gdański. The main attractions along the route are the larger towns including Tczew and Starogard Gdański, the Wierzyca and Wda rivers as well as famous sites situated among the many lakes along the way. Finally the Tczew Roman Klim trail (Green) takes you from Tczew through Szpęgawo, Stanisława to Lubiszewo and takes in all the most interesting sites the area has to offer.