Town and Municipality of Kartuzy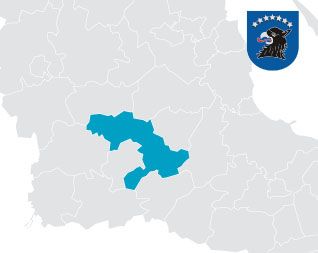 Residents/Population:
32 795
Area:
20 645 km2
Expenditure per capita:
3 143 zł
Website:
www.kartuzy.pl
Rulers/Leaders:
Mirosława LehmanBurmistrz
Edmund DunstLeader of the City Council
Kartuzy lies in the picturesque land known as Kashubian Switzerland. Numerous artefacts of religious and folk art more attractive tourist base and encourage leisure activities on its territory. The town of Kartuzy - the capital of the Kartuski county - is considered by many to be the capital of Kashubia .
Kartuzy were founded by French monks who arrived from Prague and were famous for the strict rules by which they led their lives. They founded a village here 600 years ago which became a monastic centre which in time became a social, political, economic and cultural centre. The monks, who were from the Carthusian order, held numerous assets in the fifteenth century including the village of Gdynia and property in Gdansk. For this reason, the monks seat became a place of pilgrimage for many distinguished guests, including the Polish kings Zigismund III and Prince Władysław and King Jan Kazimierz, and it gained the title of Kartuzy Manor.
Kartuzy is today a rapidly developing, medium-sized town which is quickly enveloping the municipality around it. Kartuzy lies at the heart of the Kashubian Lake District. The varied landscape , numerous architectural monuments, a dense network of roads and hiking trails, and at the same clean air make the area one of the most attractive tourist areas in Poland.
Undoubtedly among the great assets of the Kartuzy area are the lack of intrusive industry and the unpolluted environment, a wide range of investment opportunities and the energy and entrepreneurial instinct of its residents. Another great advantage Kartuzy has is its close proximity to the Lech Walesa airport in Gdansk Rębiechowo while the provincial roads nos. 211, 224 and 228 meet in Kartuzy. You will also find the Red Kashubian Tourist Trail here.
The most valuable historical treasure of the town is the Carthusian monastery, built in the Gothic style, with its unusual roof designed in the shape of a coffin lid. Others places well worth a visit by tourists are usually associated with the Kashubian character of the town signs of which can be felt at every step. It is impossible to list all the initiatives supporting the uniqueness of the area's local traditions and customs.
The most notable are events such as the Kashubian Fair, Kashubian Culture Week and the famous Truskawkobranie (Strawberry Harvesting), which has turned Kartuzy into the capital of Kashubian strawberries. To fully understand the identity of the city and its residents you need to visit the Franciszek Treder Kashubian Museum.
Kartuzy is surrounded by four lakes – Klasztornym (Monastery), Karczemnym (Noisy), Cichym (Peaceful) and Mielonko. This charming area, close to the presence of water, as well as the convenient location, are some of the factors that make Kartuzy an attractive place to live and which many of its residents consider as the capital of Kashubia.