Town and Municipality of Nowy Dwor Gdansk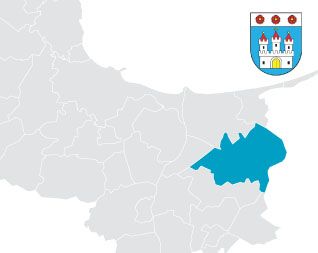 Residents/Population:
18 252
Area:
21 320 km2
Expenditure per capita:
2 937 zł
Website:
www.miastonowydwor.pl
Rulers/Leaders:
Jacek MichalskiBurmistrz
Czesław ŁukaszewiczLeader of the City Council
Nowy Dwór Gdański is called the 'Capital of Żuławy' because of its location in the centre of the Vistula Żuławy. Its location in the arms of the Vistula and the Nogat rivers creates the perfect conditions for fishing, water tourism and water sports.
Lowlands and the lack of natural hills mean the Żuławy in many places lies in areas of depression. Near Nowy Dwór Gdański is the village of Raczki Elbląskie which is the lowest point in Poland (1.8 meters below sea level). There is a lot of interesting architecture in the area, the legacy of the former inhabitants of these lands, including the characteristic arcaded houses of 'zagrody żuławskie' and hydraulic structures such as sluices, pumping stations and a drawbridge over the river Tuga. An important part of the village, are Gothic churches built in the late Middle Ages and Mennonite cemeteries, the remains of which can still be found in some villages.
Its location in the centre of Żuławy means Nowy Dwór Gdański is very well connected. You can quickly reach the centre of the Metroplitan Area as well as Elblag, via the main road E-7 road, which runs through the municipality.
Promoting the most valuable places of Żuławy is the job of the Zulawski Historical Park. It acts as the cultural centre of the region. It should be noted that it is the only one of its kind that integrates the communities of Nowodworski, Malbork and Gdańsk counties.
Agriculture in the municipality of Nowy Dwór Gdański is a major sector of the economy of the region. The excellent conditions for the development of agriculture in the municipality are demonstrated in the quality of agricultural production space index (produced by the Institute of Soil Science and Plant Cultivation) which, on a scale of 100, is 93.9 points . You will find the most fertile soil in the country in the municipality, which is dominated by the cultivation of wheat, sugar beet, barley, potatoes and oilseed rape as well as many farmers specialising in dairy cattle breeding. Nowy Dwór Gdański can boast one of the best of dairy cooperatives in the country 'OSM Nowy Dwór Gdański' which was established in 1963 and processes 40 million litres of milk annually. The cooperative is a two-time winner of the 'Most Interesting Food Product of the Year' contest.
The Municipality of Nowy Dwór Gdański has worked with four partner cities for several years. The first was Hennef (Sieg ) in Germany, followed by Swietłyj in Kaliningrad, Sarny in Ukraine and Velka nad Veličkou in the Czech Republic.