Trabki Wielkie Municipality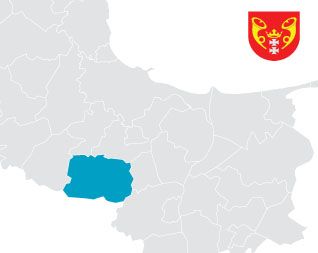 Residents/Population:
10 587
Area:
16 258 km2
Expenditure per capita:
3 407 zł
Website:
www.trabkiw.ug.gov.pl
Rulers/Leaders:
Błażej KonkolWójt
Józef SrokaPrzewodniczący Rady Gminy
Lying on the plain above Gdansk on the Road between there and Starogard Gdanskie, those looking to relax will find peace and quiet amidst picturesque surroundings or Trąbki Wielkie.
Set in terrain rich in lakes and rivers close to the city it is especially attractive to tourists. The most valuable architectural monument is the brick built parish church of the ascension in Trąbki Wielkie. Inside there is the painting of Our Lady of Trąbki Wielkie, in the garden outside there is the modern rosary chapel and stations of the cross path.
One famous resident was Zygmunt Bukowski, folklorist, wonderful poet and sculptor. His farm is home to exhibitions of his work as well as collections of farm machinery and tools from the Koczewo and Kashubian region.
Another popular spot, especially with the business community, is the hundred hectare 18-holegolf course at Postołowo with its unique seven hectare water feature.
Much favoured by people looking to work in the city but live a quiet country life, the municipality is often jokingly referred to as Gdansk's dormitory.
The natural conditions as well as the high quality of the soil makes Trąbki Wielkie mainly agricultural in character, with potatoes an important crop. However, there is a growing agricultural service sector.
In addition in recent years Trąbki Wielkie has completed many investment projects including a sports hall with basketball court and indoor football pitch – all fit for national league competition. Ecological initiatives have also seen a rapid expansion of its cycle path network, improving not only cycling conditions, but also enhancing safety at the same time.